With this delicious Tuscan Pasta Salad, you will be the bell of the ball.  This is a simple pasta salad with customizable ingredients. Make this recipe gluten free.  Just substitute the gluten pasta for gluten free pasta and off you go!
Tuscan Pasta Salad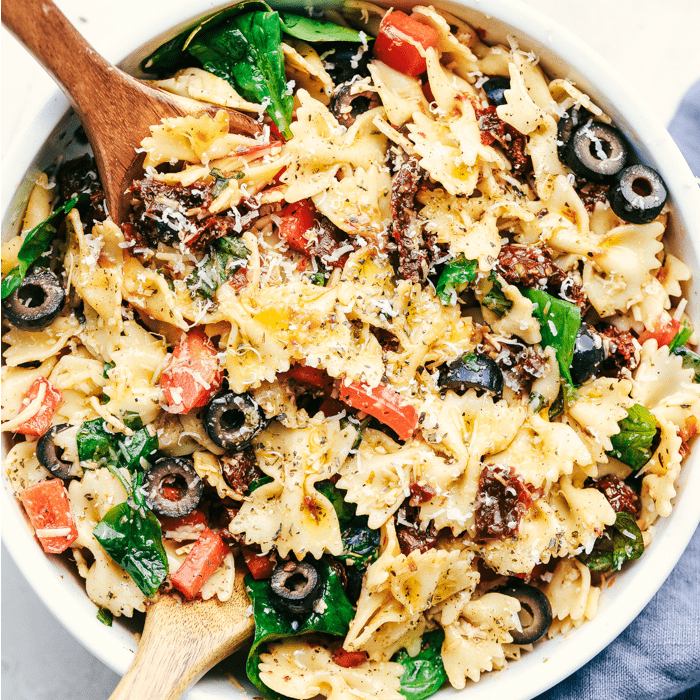 Author & Photos by Alyssa, The Recipe Critic
Prep time 20 mins
Total time 20 mins
Tuscan Pasta Salad is an easy pasta salad with sun dried tomatoes, peppers spinach, and olives tossed in a tangy dressing. This pasta salad is perfect for your next potluck!
Serves: 6-8 INGREDIENTS
16 ounce bowtie pasta, cooked and drained in cold water
1 7 ounce jar sun-dried tomatoes in oil, drained
1 6.5 ounce can sliced olives,
½ cup grated parmesan cheese
2 tablespoons white vinegar
INSTRUCTIONS
In a large bowl combine pasta, sun dried tomatoes, bell pepper, olives, spinach, basil, and parmesan cheese. Toss until combined.
To make the dressing: In a small bowl whisk olive oil, vinegar, water, salt, sugar, oregano, basil, garlic and salt and pepper.
Drizzle the dressing over the pasta salad and serve.
Watch Alyssa make this dish on her website The Recipe Critic.
If you like this recipe, check out the Creamy Tuscan Garlic Chicken recipe by Alyssa
Hi my name is Laurie. I am so glad you are here! I am a Christian homeschooling mom of 3, caregiver to my Veteran husband, mom to a son with Autism, community volunteer, travel loving, and blogger. As you might notice, I do not live the "expected life". Come join my family and other families as we experience Living The Unexpected Life.